| | | | | | | | | | | | |
| --- | --- | --- | --- | --- | --- | --- | --- | --- | --- | --- | --- |
| STR | 15 | AGL | 5 | END | 10 | PER | 15 | INT | 5 | HP | 105 / 105 |
| | | | | | |
| --- | --- | --- | --- | --- | --- |
| gender | Female | sex | Female | sexuality | Undecided |
| age | 45 Moons | body type | Large | rank | EmberClan Leader |
description
Genetics: Aa ll BB BB Oo oo TiTi ww ss CC DD ii wbwb
Emberstar's fur is long and covered with splashes of black and orange, a tortoiseshell cat. Up close, Emberstar's fur holds darker stripes within the blotches of orange on her body. The most striking feature of this woman, however, is the split down the middle of her face. The right side is completely bathed in black, no orange breaking the darkness. The black continues on the back of her head to cover the ear on that side, and even her nose is split with the dark color.
On the right side, Emberstar's eye is olive green color, however, the left is amber, also having the split much alike the rest of her face. She is a large cat, towering over some, though some cats may be larger than her.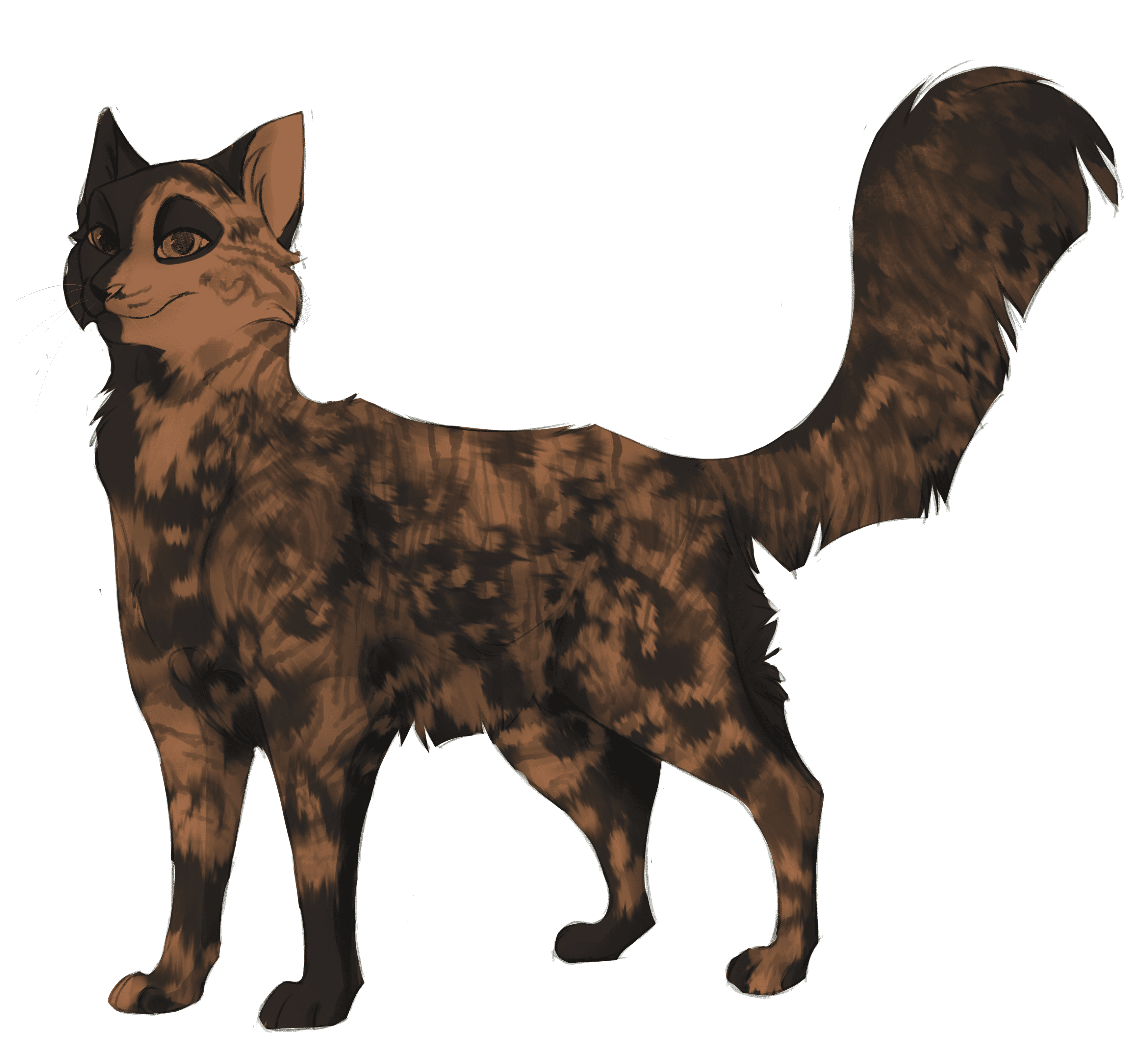 personality
Emberstar is known well for her ability to stand up for what she sees as right. At times, some may find that she takes things too far due to her diligence at fighting for her own morality. Emberstar, however, refuses to believe such thoughts and instead deflects into vowing to not die a coward.
Despite all of that, though, Emberstar can seem a little arrogant. It bleeds through in a form of seeing herself over other cats, sometimes unexplainably high. Emberstar puts herself on a pedestal over those she feels doesn't deserve to be seen.
Despite that, facing leadership like she is tends to make Emberstar crack under pressure, and make decisions that she herself wouldn't have made alone. Sometimes it even leads to emotional outbursts that she cannot contain. Emberstar does take the interests of her clan to heart, and always tries to make sure they are in a good spot before doing anything reckless, even though that plan may fail.
She isn't much of a jester, most jokes completely flying over her head and would need explaining. This cat tends to take things far too seriously and may be hard to talk to in some cases. Being an observant cat, Emberstar always keeps a sharp eye and ear out on all of her surroundings.
history
History is dated in moons, either BSQ (Before the Sun-Quake) or ASQ (After the Sun-Quake).
Emberkit - 33 BSQ
Born during the reign of Hailstar as FireClan Leader, she was one of two kits born to Lakewhisper and Barkface, which they named Emberkit and Poppykit. Emberkit for her dappled, streaked coat of black and orange—unbeknownst to either parent, the young kit had absorbed the egg of a third kit, which resulted in her chimerism, making her a so-called mosaic.
The young Emberkit was as rambunctious and adventure-minded as one can expect, which matured into a healthy pride for her abilities as she grew up. During this time, she encountered cats as Goldenkit, Frecklekit, Quailkit; and many others. Particularly Goldenkit, who soon became the solitary Goldenpaw, left a deep impression upon the young Emberkit, who always was too timid to seek out the elder kit-turned-Apprentice.
Emberpaw - 27 BSQ
Eventually, the time came for Emberkit to be Apprenticed. Summoned by Hailstar, she was assigned to Cricketdawn, a small, solitary she-cat with a tendency to expect perfection from her Apprentices. Under her scrutinising gaze, Emberpaw excelled, turning from a small kit to a reasonably solid young Apprentice. Her healthy pride turned quickly to arrogance, for although Cricketdawn was strict and of few words, Emberpaw knew she impressed her mentor still—she did not need audible praise.
Yet, these towering expectations—not only by herself but also by her mentor, Cricketdawn—was sure to make her crack eventually. On Cricketdawn's orders, Emberpaw, now nearing Warrior-age, led a patrol with Cricketdawn, guiding them southwards and across the Divide and then the Thunderpath, avoiding StormClan territory entirely by simply going around it. All went well until the Thunderpath, where the Mentor froze up at the sight of a massive monster—a truck—and passed.
Cricketdawn did not return from the patrol, and Emberpaw returned... Different.
The enthusiastic, prideful young Apprentice was gone. Instead, there was a Warrior fully focused on protecting her own: the death of Cricketdawn scarred her Apprentice for life, though the trauma has mostly faded over the years. What does remain is the mask that, originally, was to hide this trauma from the rest of FireClan.
Emberheart - 21 BSQ
Hailstar ordained Emperpaw as Emberheart for her bravery in bringing the patrol back home after the death of Cricketdawn, and soon the FireClan Warrior gained another title: Emberheart was made Deputy after Hailstar passed and Pinefire, Hailstar's nephew, became Pinestar. Emberheart, now FireClan Deputy, never had liked Pinefire—seeing him as a ruthless cat unworthy to be a Leader; yet she served him dutifully, as was expected by StarClan's will and the Warrior Code.
These suspicions, however, were in her mind confirmed when the Sun-Quake struck.
The FireClan camp and FireClan both were devastated. Dens were filled with lava, and fires devastated the Forest of Flame while smoke belched from the Fire Mountain. Emberheart was one of the few to escape unscathed—physically, at least—and with Pinestar lead FireClan south, through the devastated wasteland that had been made of the northern Forest of Flame. Establishing a makeshift camp near the Divide, Emberheart settled in for a hard life as FireClan's Deputy—but it was not to be.
Emberstar - 0 BSQ
Pinestar was no more, it was decreed. He rejected StarClan and returned to his former Warrior name: Pinefire. Citing that StarClan had not saved nor alerted FireClan, *Pinefire* enforced atheism among his Clan. It was at that point, Emberheart thought, that FireClan had truly been Left by StarClan.
Proclaiming herself Emberstar of EmberClan, the newly-ascendant Leader and her allies and followers set out north, departing once more towards the ruins of the former FireClan camp, where they established EmberClan. Emberstar focused her efforts further on being an omnipresent figure for her newly-established Clan, realising that, should she wish EmberClan to be successful, she would need to be an authoritative but caring matriarchal figure.
And so, she tried. And she tries to this day, despite the many mental scars the Sun-Quake has wrought upon her mind. For so sayeth the will of StarClan.
Played by: Nesta
Joined:
10-19-2020
Last Visit:

8 hours ago

Total Posts:
86 (0.18 posts per day | 3.79 percent of total posts)
(Find All Posts)
Total Threads:
7 (0.02 threads per day | 1.58 percent of total threads)
(Find All Threads)
Time Spent Online:
2 Days, 22 Hours, 40 Minutes
Members Referred:
0